2013 Toyota Toyota Alphard Technical Specifications
Engines:
2.4 Litre 2AZ-FE engine
3.5 Litre 2GR-FE engine
2013 Toyota Alphard Fuel Consumption
2013 Toyota Alphard 2.4L fuel consumption: 12.0 Km/L
2013 Toyota Alphard 2.4L Hybrid fuel consumption: 19.4 Km/L
2013 Toyota Alphard 3.5L fuel consumption: 9.5 Km/L
Toyota Alphard Common Problems
The second generation Alphard is a complex car with a lot of sensors and electronics that requires extra care especially in maintenance. The 2.4L 2AZ-FE and 2AZ-FXE engines are particularly sensitive to bad maintenance and will develop problems if not properly maintained. The hybrid systems are generally reliable at low mileage but tend to develop problems as the mileage increases.
Toyota Alphard Competitors:
Toyota Vellfire
, Nissan Elgrand, Mercedes Benz V-Class, and the VW Transporter
Where to buy the 2013 Toyota Alphard in Kenya:
Toyota Alphard 2013 for sale in Kenya
Read the 2013 Toyota Alphard Detailed Review:
https://topcar.co.ke/vehicle/2013-toyota-alphard-review/
Where to buy Toyota Alphard Parts in Kenya:
Toyota Alphard Spare parts for Sale in Kenya
2013 Toyota Alphard Photos: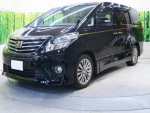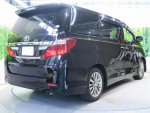 If you have any questions or comments regarding the Toyota Alphard, please share in the thread below

Thanks