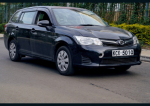 If you are looking to buy a clean and genuine Toyota Fielder in Kenya, see the links below. Prices are good and all cars are genuine, either sold by dealers or individuals.
Buy the Toyota Fielder here:
https://cars.topcar.co.ke/search/vehicle?make=3&model=87&year=0
You can also read a detailed review of the 2013 Toyota Fielder here:
https://topcar.co.ke/vehicle/2013-toyota-fielder-review/
If you have any questions regarding this car, feel free to ask in thread below.